Key Learning Pillars at MDBI
Our professors and business professionals come from top universities and organizations:
Today, we're living in the matchmaker economy and interacting with an ever-increasing range of platforms. At Technology Entrepreneurship we will focus mainly on how to build a platform, more specific on how to transition a business model towards a platform-centric one. We will work together with the students to help them design a digital platform with all the associated classical marketing metrics, but also with scaling-up strategies.
Christian Fieseler
Full Professor and Executive Director of BI Norwegian Business School's Research Centre for Internet & Society
At Sales Strategy each participant will get in-depth knowledge of the main approaches for B2B and B2C sales strategies and main frameworks used by companies. We'll experiment through case studies, role plays and games on how to design and implement such strategies from start-ups to large organizations. Together with Valentin Bancu, Engagement Manager at McKinsey, we will lay out the most successful insights across industries and sectors.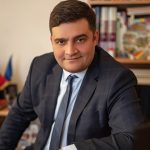 Tănase Stamule
Professor of Sales Strategy and Dean of FABIZ
When teaching Consumer Behaviour we'll develop frameworks to understand why people buy what they buy. Consumption is so prevalent that we are often unaware of its importance in shaping our lives.This course adopts a marketing approach to consumer behaviour and, with examples of marketing in practice, explores the complementary experience of the individual consumer and individual marketer. Florian Teleaba, co-teacher and Engagement Manager at KEarney, will bring additional valuable knowledge to the class.
Mădălina Meghișan
Associate Professor and Vice-Dean of Bucharest Business School
Artificial Intelligence has become a mainstream tool in driving business, as it is applied across industries for a variety of goals such as reducing costs, enhancing customer experience, increasing profits – in short, spending less to do more. Co-teaching this subject means developing students' knowledge and skills for extracting and processing information using artificial intelligence methods and techniques. Moreover, they will be able to prepare data for processing and use artificial intelligence software to process data and interpret the results.
Dragoș Vespan
Associate Professor at the Faculty of Cybernetics, Statistics and Economic Informatics